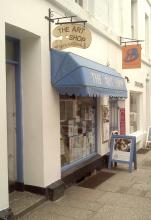 The Penzance Art Shop offers a wide range of fine artists' materials, from sketchbooks to oilpaints, watercolours, pens and pencils. The shop is located at the top of Penzance's historic Chapel Street, a very short walk from the Exchange Gallery and the town's principal shopping street, Market Jew Street. The Penzance School of Art, the Penlee Museum and Gallery, the New Street Gallery, and the weekly life drawing group are all within five minutes walk of the shop, and Newlyn and the Newlyn Gallery are also within walking distance.
Re-opened on Wed 14 April 2021 - with limited opening hours
From April 2021 - Limited Opening Hours: 10:00 to 14:00 Wednesday to Friday
closed on Sundays and Bank Holiday Mondays.
Telephone: 01736 366 437
Address: 57 Chapel St, Penzance, Cornwall TR18 4AE
see on map
The Penzance Art Shop is a longstanding local business with many loyal customers in the thriving Cornwall artistic community, and the shop window and entryway feature a number of useful notices about local artistic activities and services. The Penzance Bookshop is located diagonally across the street, and there are galleries, boutiques, cafes, pubs and restaurants as well as antique shops in Chapel Street, with one featuring a Dalek in the window.