UPDATE - the Free Lunch event came to Penzance on Sat 2 May 2015, details at www.freelunching.com and @freelunching. November 2014's free free cake event went really well and people enjoyed themselves, and Redwing are keen on more events - please contact us or them if interested. And by popular request we have posted the date cake recipe here for you to try at home.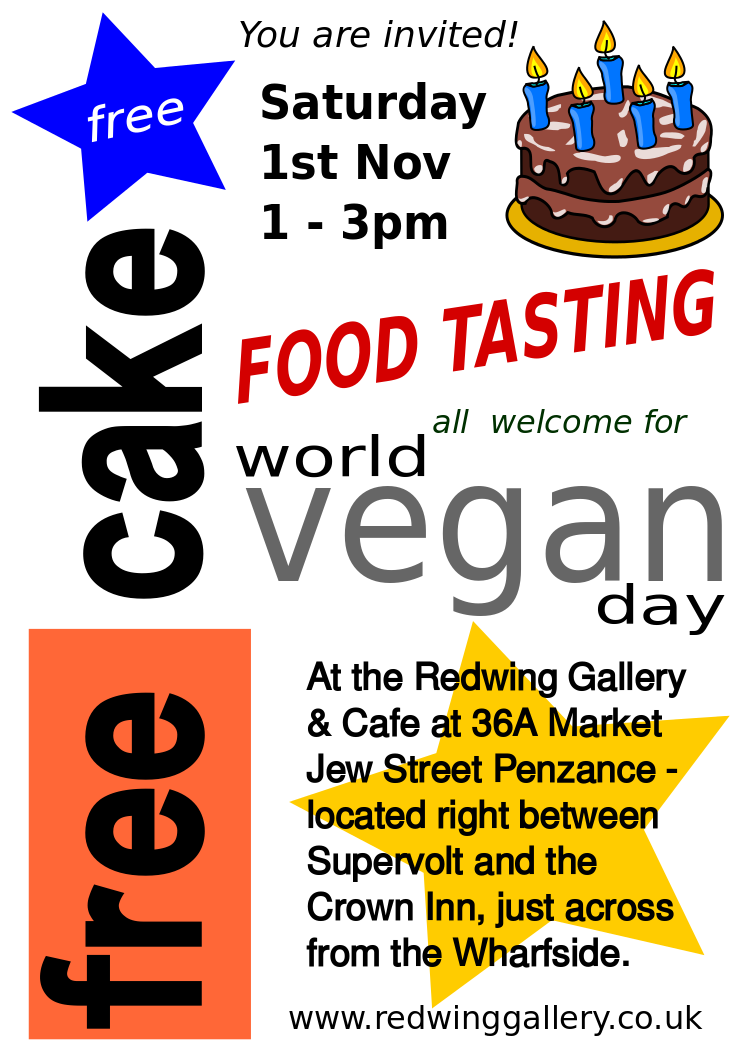 2014 brings you a free Food Tasting with Cakes featuring vegan food and vegan lifestyle info in Penzance. This takes place on World Vegan Day 1st November 2014, 1-3pm at the Redwing Gallery and cafe in Penzance. Everyone is welcome and you will find full details on Redwing's website at www.redwinggallery.co.uk.
Publicity posters and invites can be downloaded from us here on this page - see linked list below - please by all means print, post and pass them on, and tell your friends. These are made so they print well in both black and white and colour, and also at small scale as flyers. You can set your printer to black and white only, or photocopy them and change the scale if needed.
If you would like to exhibit or share your vegan products, info, catering or services there is almost certainly still a space for you, free of charge - contact us today.

 
 
And a big thank you to the local businesses supporting this event! Yes, that means you, Food of the Gods raw vegan chocolate made in St Just, The Apple Tree Cafe in Sennen, The Granary healthfood shop in Penzance, Archie Brown's healthfood shop and cafe in Penzance and Truro, TastyWebDesign.com, Redwing Gallery, and GazelleStIves.
World Vegan Day Celebration Penzance 2014 - what a mouthful! Cake Cake Cake!
The last full Vegan Fair in Cornwall was in November 2012 and was a big draw for people as far away as Devon.