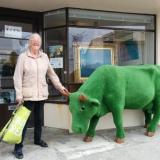 I have been fortunate enough to have lived in a great many paintable places so I painted them.
There are no hidden meanings.
I have always had a compulsion to paint and I am lucky that it has lasted into old age.
However my enthusiasm for painting far outweighs my desire to find out why I do it.
I like putting figures into what I think is their context  both in the landscape and indoors.
I have always loved depicting horses.
I hope you will like them.
There were exhibitions of Angela's work at the Schoolhouse Gallery in Morvah in 2013 and 2010.
Note: sadly, Angela passed away peacefully on 11 April 2018.